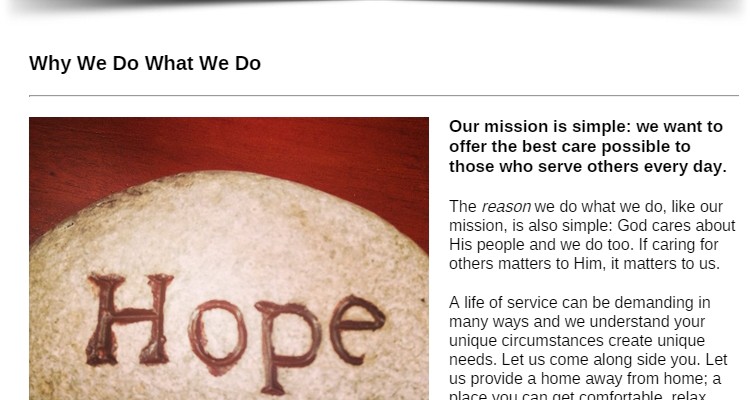 It has been our pleasure and business advantage to have chosen the website services company of Boost by Design. The staff, management and ownership are top-notched and their website targeted programs have increased our traffic from present and future clients by at least fifty percent. We highly recommend their services.
Project Summary
PPC Ad Campaign
SEO Optimization
Marketing Dashboard
Lead Generation Reports
Content Writing
Backlink Campaign
PR Releases
Citation Cleanup
Citation Creation
Social Media Integration
Web Design
Web Development
Branding
Full CMS
Event Calendar
Client Brief
"Serving those who serve others." This is the motto of the Horse Stamp Ranch. With a beautiful inn, tranquility abound and a sprawling landscape, Boost by Design was presented with the challenge of bringing this unique destination to life on the web. Rich earth tones and delicate prose were to tie in with the spiritually driven retreat's abundance of amenities and services; keen attention to detail in the site's navigation and overall layout. Visual tours and intimate touches of scripture and a testament to the customer oriented staff was deemed a priority.
Client Solutions
Horse Stamp Ranch, a beautiful tribute to peace and tranquility and now a fully responsive website to include in their impressive portfolio. Our team explored the most useful web based tools and incorporated these onto the site. A genuine user friendly interface complete with custom forms, e-commerce ability, newsletter and event promotion and social media galore. Not only can future patrons and service driven members of the community easily find this stunning oasis in organic browser search, they'll also discover an abundance of useful testimonials and reviews to the Horse Stamp Ranch throughout the website. The vastness of this site's offerings partners well with the many services these friendly folk have to offer... Amen!